"What I try to tell young people is that if you come together with a mission, and it's grounded with love and a sense of community, you can make the impossible possible." 
– Rep. John Lewis (1940-2020)
Welcome back to school! 
In a year like no other, we are excited to welcome families and staff back to school. As the ongoing global pandemic has forced schools to resume the online learning at home begun last March, the role that families play in supporting their child's learning continues to be more important than ever. Through spring and summer, Kindred's team has been hard at work, innovating with our partner schools in preparation for an impactful year of supporting families and staff in building empathy, connection, and a commitment to advancing racial justice and educational equity in their communities and beyond. As we launch Kindred dialogue groups virtually this year, we are pleased to share our new recruitment video with you!
Kindred

 families are powerful!
Through the end of an atypical school year and into the early days of this school year, Kindred alumni have continued making their schools better for all children, while balancing the many demands of life during this pandemic.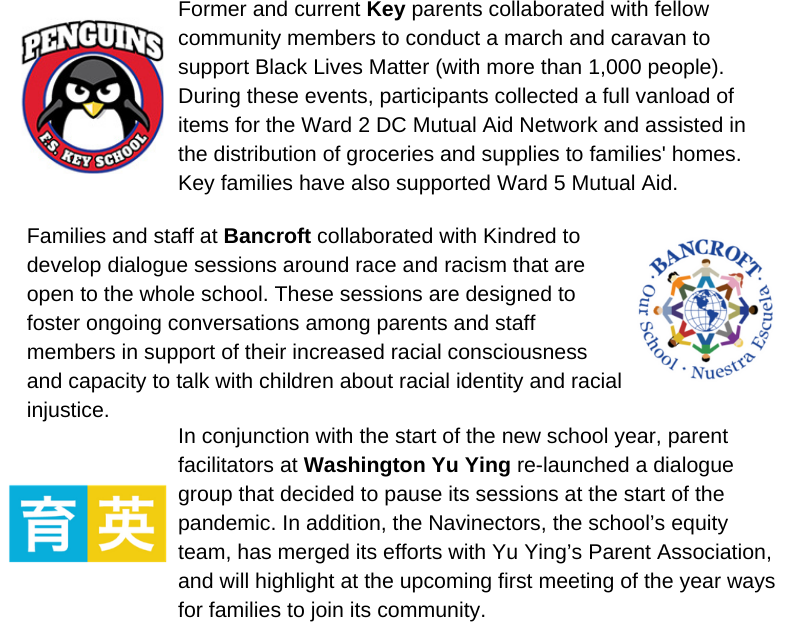 Introducing our Parent Advisory Council 
Kindred's inaugural Parent Advisory Council (PAC) engages 11 parent dialogue alumni from across 9 DC schools to:
– Build capacity to become lifetime catalysts for educational equity and racial justice 
– Advocate for educational equity and racial justice across our entire school system
– Provide regular feedback to Kindred about key messages and strategy
During the PAC's first session in June, parents collaboratively set community agreements, mapped the story of their racial equity journey, and learned about how stories influence broader change. Learn more about the PAC in this video:
Welcome to our new partner schools!
The bold leaders from our new partner schools share a desire to advance collective wellbeing, making their schools places where all children and families belong and thrive, without difference by race, ethnicity, socioeconomic status, or any other distinction. In her own words, Tyler Elementary School Principal Jasmine Brann shares why she sought partnership with Kindred:
Families are critical partners in our children's educational experiences and life-long success. Schools have the responsibility to ensure families are active contributors by equipping them with the tools and resources they need to overcome barriers and challenges. Through our partnership with Kindred, we continue to explore how to bring our school community together to increase access, equity, and excellence for all our students and families.
In addition to Tyler ES, we are delighted to welcome Mundo Verde PCS, Langley ES, and Capitol Hill Cluster Schools Peabody and Watkins Elementary to the Kindred network!
Our 

Kindred

 team is growing!
We're thrilled  to introduce three of Kindred's newest team members: Jennifer Motolenich, director of program design; Simone Egwu, director of online community; and, Ryan Jones, facilitator and organizer! Learn more about Jen, Simone, and Ryan here or by clicking the button below.
Your donation will help us grow!
Please consider donating to Kindred today to help us build a force of families who have the knowledge, tools and relationships to advance racial and educational equity!
–